Creative Professional Artistry
Pam Collins, an artist from Staples, Minnesota, works primarily in three divergent media: watercolor, fabric/fibers, and mosaics. Inspired by nature, Pam creates art that gives each piece an exclusive beauty and vibrancy.
Pam's watercolor technique evolved from following traditional watercolor techniques to an unconventional method. She mostly paints directly from the tube, with little water, to create a deep rich coloring. She even uses white paint which is frowned upon in the world of watercolor.
"[I am] enamored with the way watercolor moves and changes when put on paper. The colors are so deliciously rich. I will never tire of painting with them. My work is mostly representational and this medium is extremely conducive to my favorite subject – water."
Pam's mosaic work is rich in texture and color often utilizing recycled items such as broken dishes, recycled tiles, and other tesserae. Pam has created a wide-variety of mosaic art including landscapes, florals, and interpretive subjects. She also mosaics practical items such as table tops, backsplashes, and furniture.
"I take objects that are broken, chipped, often discarded, and useless to others and create something beautiful. Life is not always beautiful, but taking these discarded, broken pieces and giving them a new purpose is a cathartic process. It allows me to prove to myself that life can be made beautiful from rough edges, shards, and destruction."
Fabric Painting is a newer technique Pam developed over the years. Her process uses old discarded clothing, draperies, linens, and other malleable fibers. The fabrics are cut or torn, arranged, and glued to a stretched canvas (also made from old curtains or draperies) to create landscapes and waterscapes. The manipulation of the materials brings a 3-D texture and movement to the overall composition.
"The process itself is quite simple; however, looking at fabric as paint takes some imagination. How do you take a soft, supple textile and make it look like a mountain cliff or ocean? Or even clouds? This art form is limited only by our imaginations."
Pam offers classes in mosaic, fabric painting, and watercolors. She has worked with both children and adults in a variety of settings. Her classes are filled with encouragement and the true belief that all can gain from expressing themselves through art.
"I believe all humans have a need to be creative, and that art is made to examine our emotions and responses to the world we live in. Most adults do not allow themselves much, if any, creative time in their busy lives. So few people believe they have any creativity within themselves, judging their abilities before even trying. Whenever I have an opportunity to help someone discover his or her creative side, I understand a bit more of the purpose for my life. I am deeply gratified when a student discovers they are indeed creative and are able to smile and be proud of what they have done.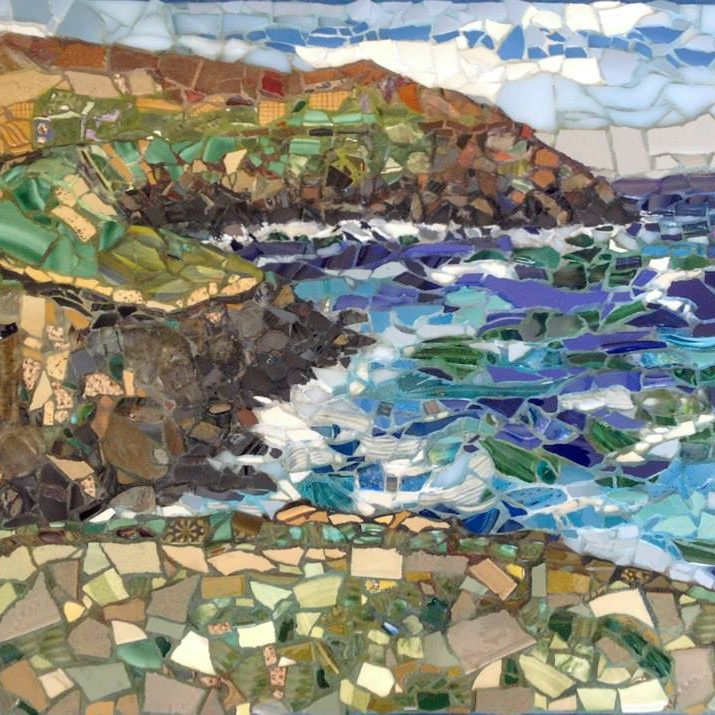 September 20, 2018 | 6pm-8pm
Weaving Waters Fiber Trail
Pam will be presenting the Opening and Keynote Address, Way of Water, for the 2018 Weaving Waters Fiber Trail. 
Great River Arts Center, 122 1st St SE, Little Falls MN
To learn more or sign up for this class, please call (320) 632-0960. 
September 21, 2018 | 10am-3pm
Studio Open House
Get an insiders view of where the creative magic happens! See the studio, view finished artwork, and talk with Pam about her inspiration and process. 
1021 5th St NE, Staples MN
September 22, 2018 | 12pm-4pm
Studio Open House
Get an insiders view of where the creative magic happens! See the studio, view finished artwork, and talk with Pam about her inspiration and process. 
1021 5th St NE, Staples MN
September 29-30, 2018
Fabric is Paint
This class will be presented at the annual Jack Pine Spinner and Weavers Guild retreat held at Concordia Language Camp, 8659 Thorsonveien Rd NE, Bemidji MN. 
To learn more or sign up for this class, please call (218) 987-2251.
Pam Collins
Pam Collins is a mostly self-taught artist, who works in watercolors, mosaics, and fabric (not simultaneously). She has studied under nationally known artists in pursuit of her favorite mediums.  Collins has lead numerous watercolor, fabric and mosaic workshops in her studio, at area art centers and school districts.  Pam loves to share her passion with others and is inspirational in her work.
She has received grants from Five Wings Arts Council, funded by the McKnight Foundation, to further her education and grow with new experimentation.
"Being an artist is a continual learning and growing part of my life. My art is my response and commentary of life around me. Each experience and interaction allows me to think of ways to incorporate it into my work. My reactions to what I see and experience dictate what kind of art I produce. When painting, my style is generally impressionistic. My work is often large, with bright, intense colors. When working in mosaics, subject matter varies greatly, and the medium allows for an abstract outcome. My fabric painting is also representational and I often work in large dimensions."
Other creative accomplishments:
Pam has served at various Central MN schools as Artist in Residence teaching in all three medias. Other classes developed as her love of Mosaic and Fiber Paint blossomed. Pam has led classes for a wide variety of students always sharing her passion for art and personal expression. 
Pam currently resides and creates art in Staples, MN.