It is 2020, as we should all know by now! It has been a while since I have posted a blog, but I am ready to post something now!
I just completed a new piece of work. Actually, it is 3 pieces, a tryptic. I call it New Home Birches. They will be shipped to their home shortly. I am very pleased with the results of this work. Although the subject matter is not new, doing 3 paintings as one was a challenge.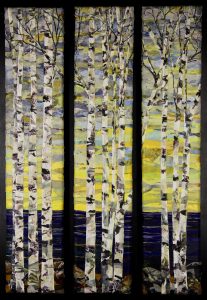 Each panel is 12 inches x 60 inches which made the process a bit difficult because I constantly had to step back, (even more than usual) to make sure things were on the same plane and they looked cohesive. I was working from memory and/or imagination, so I didn't have to refer to a photo. That is good in my world.
With the paintings being so narrow but so long, it was difficult to make the perspective stay correct. I started placing branches where I thought they should be, but when I stepped back and tried to join branches from the next painting, lines and perspective got out of whack. One looked too distant, another too close.
Another challenge I had, was with not having enough fabric I wanted to use. Don't get me wrong, I have enough fabric for 5 more lifetimes, but I found a beautiful satin scarf in one of my piles, and it was not very big. I had to methodically parcel out what I had between the 3 paintings, and use it ever so sparingly.
It worked, of course, but it did make me nervous!
I also wanted to create the slightest reflection on the trees from the sun going down. It is ever so slight, but I am pleased with the results. I used yellow tulle on the right side of the trees. Take a look at the close-ups I include. Then look at the completed piece. It's fun to see it from different views.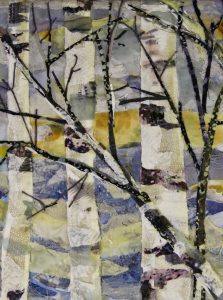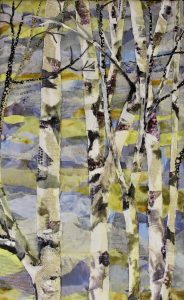 I am trying to limit my workshops this year because I will spend more time in the studio. I have no inventory and the only way to improve that is by actually working!
Right now, I am only scheduled to lead a workshop 3/14 at White Bear Lake Center for the Arts, and then again on 4/4. Check out their website for more details, please, if you are interested. https://whitebeararts.org/
I will also be speaking at the Textile Center on May 18th at 6:30pm. I will be sharing my world of fabric painting with the Minnesota Contemporary Quilters Guild. I am very honored to have this opportunity!
Until next time,
Go make art
Thanks for reading!