My website has been up for a year!  It is the end of November and I have posted a blog every month, except October.  The time has gone by quickly!
We are about to leave for Chicago for the Thanksgiving holiday.  I always love Thanksgiving.  It isn't about buying presents for people, or the other things that are attached to Christmas.  Most times, it feels more relaxing.  I sincerely hope your celebration is filled with gratitude and thanks to the people in your lives.  Sometimes it is difficult to be thankful for everyone in our lives if you know what I mean.  Nonetheless, be thankful for them too.  We all need to be appreciated.
I am sorry for not posting a blog in October.  I won't make excuses.  It just got away from me.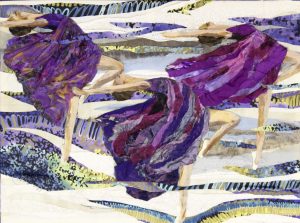 I started a painting of Dancers a year or two ago.  I liked where it was going, but I just couldn't finish it.  Recently though, I needed to finish it, so I did.  I pulled off one of the dancers and redid the background.  I am not fully happy with it, but it certainly looks different from the start.
As you may know, I am obsessed with water.  I really enjoy the movement of the body in water.  I remember as a young girl, wanting to move through water as quietly as possible to see how my swim skirt or ruffles moved when submerged.  I have been thinking about fabric in water, not as water, and want to develop work of the human form moving in the water.  When the body is in water, it is buoyant and weightless.  (I think there is a connection with weight and self-image somewhere in those thoughts!) I will share them as
My Dancers painting is a first attempt at trying to indicate figures in water.  It is a jumping-off point. (no pun intended), and I look forward to developing this idea in the coming year.  I believe there are many places to go with this concept.
Have a look and throw me a note on my Facebook page, @PamCollinsArt, if you want to share anything with me.
Again, Happy Thanksgiving!
Go make Art!
I am planning classes for 2020, but nothing to post yet.  For those looking for one, hang in there.  They will be coming soon!